[NIKKEI Plus 1 "Anything Ranking" Disaster / disaster prevention / crisis management specialists choose the toothpaste / oral care product ORALPEACE]
"Outdoor equipment that is excellent for everyday use and can be relied on in disasters"
Survey method: We asked 10 experts to actually touch and select. The Nihon Keizai Shimbun ranked 1st to 10th from the viewpoints of "useful in an environment where evacuation life and infrastructure are stopped", "usable in daily life, travel and leisure", and "easy to use even for people unrelated to outdoor activities". Aggregated by the editorial department.
This week's expert
▽ Andorisu (Outdoor Disaster Prevention Guide)
▽ Yoshiyuki Ushijima (Outdoor Writer)
▽ Nobue Kunizaki (Representative of Crisis Management Education Research Institute)
▽ Takanobu Kobayashi (outdoor enthusiast)
▽ Ryo Koshita (Chief of Kojitsu Sanso)
▽ Takao Sakaguchi (Director, Citizens' Disaster Prevention Research Institute)
▽ SAM (outdoor lighter)
▽ Takashi Tamaki (Citizen's Disaster Prevention Lab Representative)
▽ Renkuni Notomi (writer)
▽ Miyuki Miyamaru (Director of NPO Mamaplug)
= Honorific titles omitted, in alphabetical order
https://style.nikkei.com/article/DGXMZO34766560Q8A830C1W03000
===
Outdoor equipment is surprisingly useful in the event of a disaster.
If you can use it without an instruction manual, you can rest assured in case of emergency. Experts have selected excellent products that can be conveniently used in both autumn leisure and daily life.
~ Let's get used to it everyday ~
Everyone cares about preparing for large-scale disasters such as earthquakes and torrential rains. Although we have emergency carry-out bags, many people may not know how to use the goods inside. Regarding how to select disaster prevention supplies, Nobue Kunisaki, the representative of the Crisis Management Education Research Institute, points out that "how you can use it on a daily basis is important."
I can't afford to turn the pages of the instruction manual in an emergency. This is because you can understand how to use it if you are accustomed to handling it. Outdoor equipment with excellent design and function is more useful than you think in everyday life as well as occasional outings and leisure activities.
~~~
"4th ORALPEACE clean & moisturizing oral care gel that can be used without water" 370 points
A gel for brushing teeth and moisturizing the mouth.
The ingredients are naturally derived and can enter the body, but if you are concerned about the remaining gel, you can wipe it off or spit it out lightly.
Take it with your finger and apply it to your mouth to prevent dry mouth. There is also an individual wrapping type. There is also "Orange" that can be used by hypoallergenic infants.
"There are many disaster-related deaths that cause pneumonia and sepsis when germs in the oral cavity enter the lungs, especially among the elderly and those requiring long-term care. Oral care in the disaster-stricken life is important," said Mr.Takaaki Tamaki.
"In the event of a disaster, you can't get enough water and stress reduces saliva. Oral hygiene products are indispensable. You can use them even during work when you can't brush your teeth." (Mrs. Miyamaru)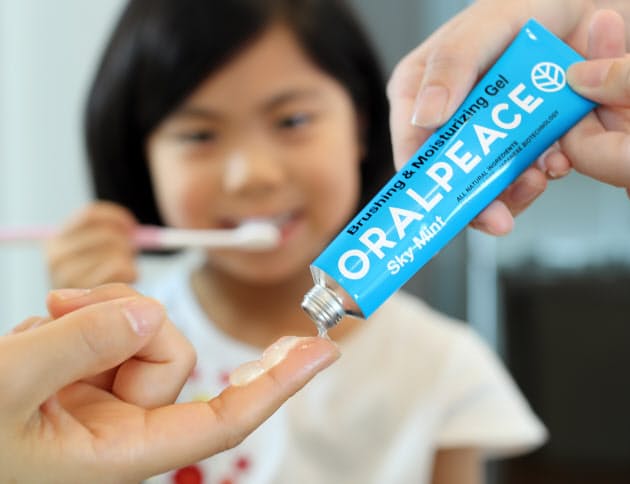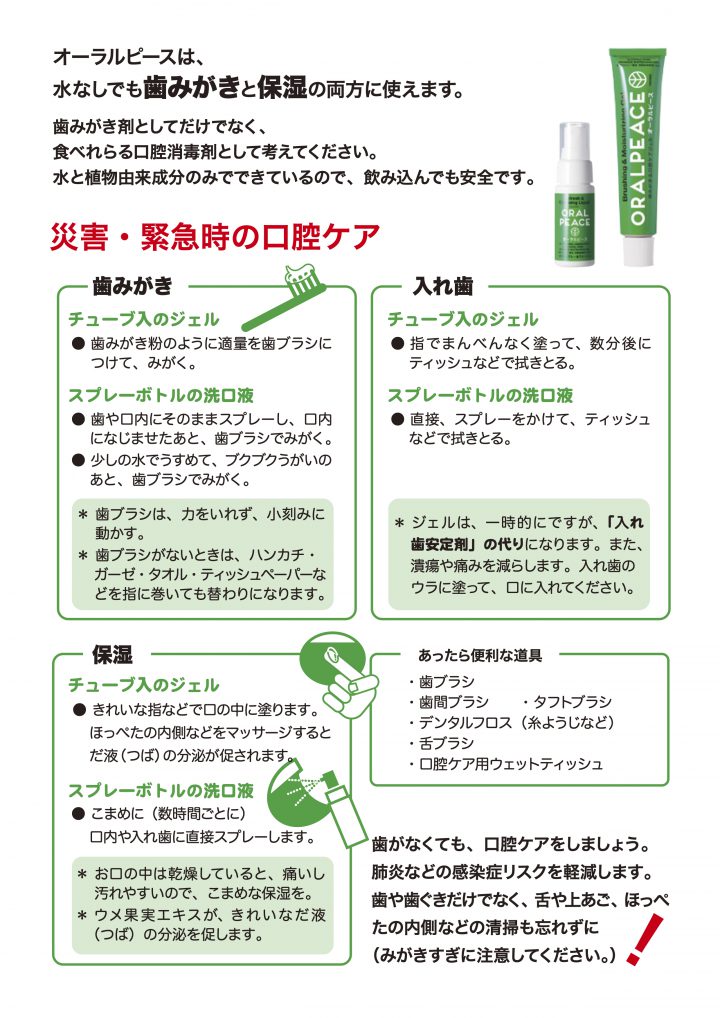 ===
◇◇◇◇◇
How to read the ranking: Numbers score the evaluation of the winners. The model is Ayako Ishii. The photos are taken by Makoto Okada in 1st to 8th place (excluding the photo of the product itself).
The "Anything Ranking" of NIKKEI Plus 1 will be posted every Sunday. Please see the articles so far from the following.
https://style.nikkei.com/article/DGXMZO34766560Q8A830C1W03000