[An article was published in the Japan Economic Newspaper about the launch of "ORALPEACE" in the European market]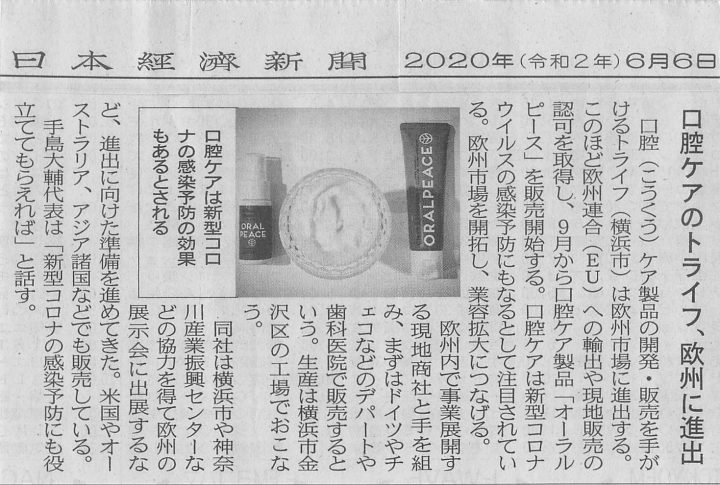 "ORALPEACE" finally obtained official export sales authorization in the European market and started market expansion
-Official export to EU and local sales approval obtained, launched in September 2020-
ORALPEACE project has received official export and local sales approval to the EU and will start official sales in the European market from September 2020.
The EU has various strict regulations regarding the import and local sale of cosmetics, including the regulation of ingredients and the establishment of local managers.
Furthermore, regarding the submission of product information to the EU Commission, the "Cosmetics Regulations 1223/2009 (Cosmetics Regulations)" are stipulated in detail.
Exporting oral care products from Japan has been a significant barrier to entry for small Japanese social venture companies.
This time, I met a great European entrepreneur and partner, and received a lot of support, and I realized the effort.
Similar to the markets in the United States, Mexico, China, Hong Kong, Taiwan, Malaysia, Singapore and Australia, where we are already developing business, we manufacture products at laboratories and factories in Japan and export from Yokohama Port.
In Europe, there is a strong consumer awareness of what can be put in the mouth, and there is also a great deal of interest in environmental impact. In addition, the emergence of the coronavirus has raised awareness of oral hygiene in people. Therefore, the local release of "ORAL PEACE" was highly anticipated.
Therefore, local sales in Europe of "ORAL PEACE" with the following characteristics, which was realized by biotechnology research of Japanese industry-academia-government collaboration that has never existed before, can be a great consumer benefit.
"Immediately sterilizing the causative bacteria in the oral cavity with ultra-low concentration, it is made of only food and organic ingredients and safe to swallow, and even if it is vomited into the environment, it is quickly biodegraded and does not burden the microbial ecosystem."
We will continue to make efforts to deliver ORAL PEACE to the world as soon as possible for many people who are in trouble.
ORALPEACE Product Overview:
An oral hygiene product containing the world-leading patented formulation "Neonisin-e", which has an excellent bactericidal effect against bacteria causing troubles in the oral cavity but is safe to swallow and has a low environmental load.
Made from 100% natural ingredients based on the world's most advanced lactic acid bacterium biotechnology research with Kyushu University and the National Center for Longevity Medical Research, etc., for the needs of oral care that is safe even if absorbed by the body.
Another characteristic of this project is the Social Contribution (CSV) project, which is run by a project supporter consisting of 2 employees and more than 100 professionals in each industry, and creates jobs and income for people with disabilities throughout the country.
Won "Yokohama Business Grand Prix 2014 Grand Prize", "Japan Venture Award 2015 Grand Prize", "Nippon Foundation Social Innovator 2016", "2018 Japan Agricultural Chemistry Technology Award", etc., the world's largest academic publication in 2019 It was also featured in Springer's book Entrepreneurship in the Asia-Pacific: Case Studies.
Currently, it is offered to 10 countries as a global oral hygiene brand from Yokohama, Japan.
In February of this year, we also provided free of charge to 3,600 crew members of the "Diamond Princess", a coronavirus outbreak cruise ship anchored at Yokohama Port.