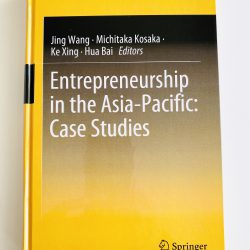 2020/02/05 (Wednesday)
-
News
ORALPEACE was featured in Springer's book "Entrepreneurship in the Asia-Pacific: Case Studies" by the world's largest academic publisher
[ORALPEACE was featured in Springer's book "Entrepreneurship in the Asia-Pacific: Case Studies" by the world's largest academic publisher]
The Oral Peace Project has been featured in Springer's book, Entrepreneurship in the Asia-Pacific: Case Studies, the world's largest academic publisher.
This is a collection of papers on entrepreneurship across Asia & the Asia-Pacific region, including Oceania & Australia.
ORALPEACE was featured as a 20-page research paper in Chapter 3, "Entrepreneurship in New Business & Social Innovation."
Daisuke Teshima & TRIFE Inc .– Creating a New Business to Support the Elderly & H&icapped
I hope you read it by many people.
PEACE !!
===
「Entrepreneurship in the Asia-Pacific: Case Studies」
This book is dedicated to the analysis of the entrepreneurship in successful companies by presenting & comparing a series of case studies in the Asia-Pacific where many new companies have been growing successfully in the 21th century. In total, 5 cases in the manufacturing industry, 4 cases in the services industry, & 3 cases related to new business & social innovation are chosen from China, Taiwan, Japan, Australia, Malaysia & Vietnam. Each case provides insight into the entrepreneur's aspiration, the processes of personal & business developments, the factors of success, & the inspirations drawn from the analysis. These cases are analyzed & compared from the viewpoints of entrepreneur's motivation, ability of foreseeing changes & opportunities in the future business environment, core resources & innovation, knowledge management & culture for the company, determination & ethos. These are critical factors in value creation for customers & the society, especially in the future business environment. Finally, commonalities & uniquenesses in entrepreneurship relevant to industry sectors & social-economic-cultural contexts are clarified & a typical entrepreneurship model in the Asia-Pacific is proposed.
https://www.springer.com/gp/book/9789813293618
===
Sorry!Now we can not use "a n d" words on this system.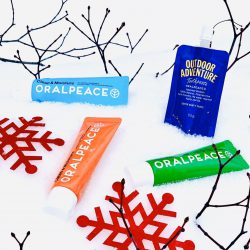 2019/12/25 (Wednesday)
-
News
(JP) メリークリスマス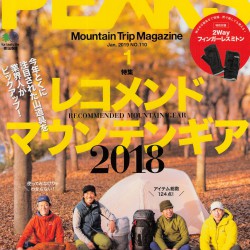 2019/02/05 (Tuesday)
-
News
ORALPEACE was featured in "Recommend Mountain Gear 2018" of magazine "PEAKS"
【ORALPEACE was featured in "Recommend Mountain Gear 2018" of magazine "PEAKS"!】
"Industry people picked up mountain tools attracted attention especially this year, 6 items chosen by outdoor writer Mr. Shinya Moriyama" introduced oral piece.
~ "Toothbrush Item Returning to the Mountain ORALPEACE
Common toothpastes contain chemicals that are not decomposed spontaneously. In the mountain hut, there are places like ban on toothpaste. It is 100% natural ingredients sampled from the plant, so you can swallow it, and you can breathe out to the earth without hesitation. It keeps you cranky so you can polish it pleasantly without precious water. When it is troublesome to brush teeth spray the type inside the mouth to prevent tooth decay, refreshing refreshing. It is a Japanese-made authentic school used in hospitals and nursing homes. ~
In addition, ORALPEACE was taken up by Miyagami of the editorial department at the "PEAKS editorial department recommendation. This year's favorite mountain tool is this!" Section.
~ Gel version of oral care item which decomposes and absorbs in the body even if swallowed. It is a big success at the tent overnight mountain row where it is difficult to use toothpaste. Even rinsing mouth with mouse spray & wash is effective. Winter in which the party increases, it will be a great success in town. ~
In case
"PEAKS" issued by A Publisher has a variety of equipments, intensified knowledge, experienced in practice, and raised myself. It is a monthly magazine for having you feel the pleasure of such a mountain. We also positively take up the latest gears and wear focused on young people who are hooked on the mountain and senior citizens of sophisticated style.
Subscribe to the following! !
https://www.ei-publishing.co.jp/magazines/regular/peaks/