【ORALPEACE goes to space!! JAXA officially selected as an onboard product on the International Space Station】
We would like to inform you that "ORALPEACE" has been selected by JAXA (Japan Aerospace Exploration Agency) as an on-board product of the International Space Station (ISS).
After being selected as a candidate for mounting at the end of last year, it was evaluated from the viewpoint of safety and mountability after being checked by astronauts, etc., and officially decided to be mounted.
● Announcement of JAXA (Japan Aerospace Exploration Agency)  November 22, 2021
https://humans-in-space.jaxa.jp/news/detail/001898.html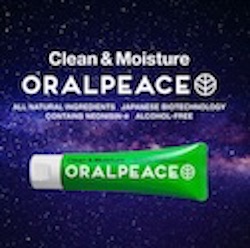 The daily efforts of many researchers, including Kyushu University, have come to fruition when they are utilized in the cutting-edge space of humankind.
Taking this selection as an opportunity, we will utilize the research results of the patented lactic acid bacterium peptide formulation "Neonisin-e" in new fields such as space and skin, and accelerate research that contributes to the environmental protection of the earth and the development of humankind in the 21st century. I will come.
We would like to express our gratitude to all who have supported this small project so far, and thank you for your continued support for the ORALPEACE Project.