[ORALPEACE's special TV program was broadcast nationwide! Change the World-Aspirations for Building the Future-"Toothpaste without Water in Stricken Areas"]
TV TOKYO information, documentary program
Change the World-Building the Future-"Toothpaste without Water"
This summer, there is a miracle toothpaste in Chiba Prefecture, which was hit by a typhoon, which helped live in the affected areas. You can brush your teeth without using water & swallow it! What is the secret?
Program contents
This summer, a toothpaste that can brush without water has been very active in Chiba Prefecture, which was hit by a typhoon & suffered from power outages & water cuts. Developed by Daisuke Teshima of ORALPEACE. Made from natural ingredients such as tofu and plum, it is safe to swallow. The trigger of the development was the appearance of my father, who was living a fighting illness in late cancer. He was too weak & swallowed even after brushing his teeth. Currently, it is helping people in 20 countries around the world, not just in the affected areas.
https://www.tv-tokyo.co.jp/broad_tvtokyo/program/detail/201912/24709_201912291715.html?fbclid=IwAR3sV-qiMQiH7cDyBEbVszUnP9v2RlxdKpOmhmNdQr3XRZQWjBxCKv95994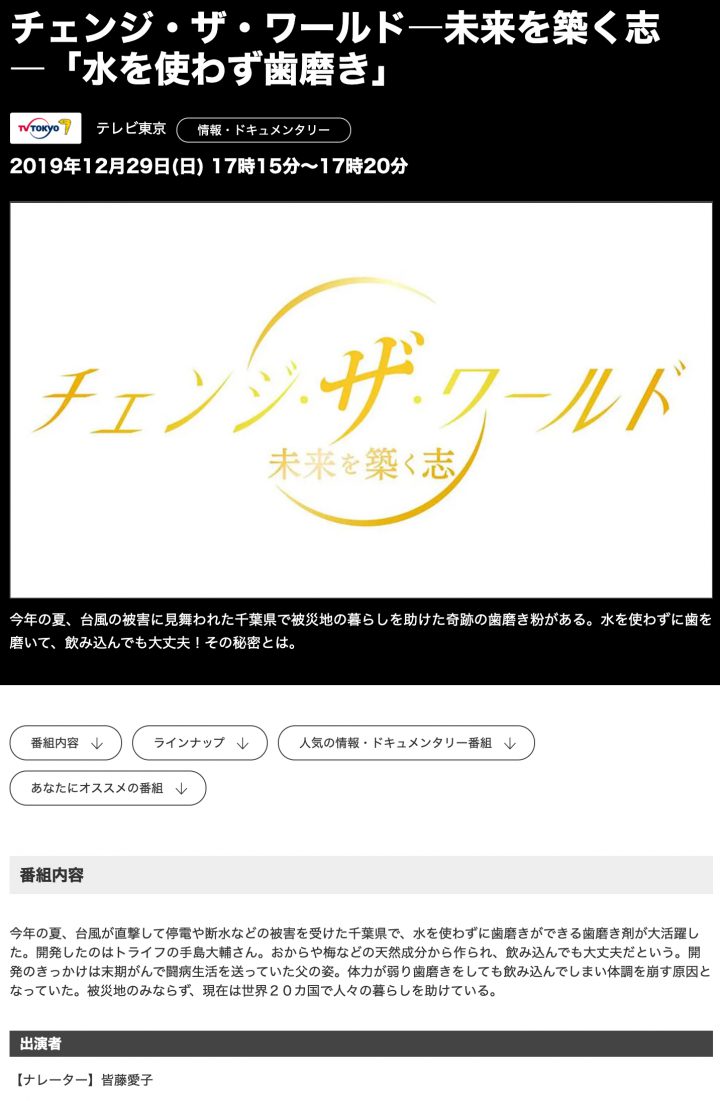 Sorry!Now we can not use "a n d" words on this system.